Indoor visitation privileges are now allowed at all times for all patients (residents) with no limitations on the frequency, length, and number of visitors. However, we highly encourage all visitors to schedule visitation appointments to decrease the waiting times in the hospital lobby. TCU will continue to enforce infection control and prevention by ensuring ample social distancing are practiced that we must control the flow of traffic as visitors come and go in TCU. Those who do not have visitation appointments may have to expect to wait until cleared to enter TCU.
Please call Rayza Batista, Director of Recreational Activities, at 201-418-2151 to schedule appointments.
Please feel free to reach out to Rayza Batista for any feedback, questions, concerns, or complaints.
Transitional Care Unit Ranks Best Short-Term Rehabilitation
Congratulations to Hoboken University Medical Center Transitional Care Unit for maintaining the rank as best short-term rehabilitation 4 years in a row at US News and World Report for 2021-2022!!!!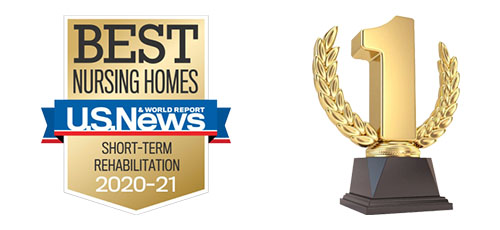 Evidence-Based Practice Projects
The TCU's evidence-based project titled "Interprofessional Horticultural Therapy to Augment Performance in Activities of Daily Living and Quality of Life" has been accepted to for poster presentation at the Sigma Theta Tau International Honor Society's 32nd International Nursing Research Congress on July 21 to 23, 2021. This is TCU's second EBP project to gain international recognition!
TCU's first EBP project poster presentation titled "Interprofessional Collaborative Music Therapy Program as Adjuvant to Pain Control to Reduce Pharmacological Interventions" gained its first international recognition at Sigma's 31st International Nursing Research Congress in July 2020.
Hoboken University Medical Center TCU Staff:
TCU Leadership:
Administrator: Lydia Alicia Cristobal DNP, LNHA, RN-BC, NEA-BC
Director of Nursing: Funke-Kanji Ojelade MSN, RN
Director of Recreational Activities: Rayza Batista BA
MDS Coordinator and Infection Preventionist: Carlos San Juan RN