Date: November 22, 2022
Contact: Phil Swibinski, (201) 978-8651

Inaugural surgical procedure marks formal launch of partnership bringing top level orthopedic care to Hudson County
Hoboken, NJ — The recent successful completion of a complex surgical spinal procedure at CarePoint's Hoboken University Medical Center is the first in a long term partnership between Rothman Orthopaedic Institute and CarePoint Health Systems that was initially announced in 2021.
"We are thrilled for the partnership between Rothman Orthopaedics and CarePoint Health to be successfully underway," said President and CEO of CarePoint Health, Achintya Moulick, MD, MBA, M.Ch. "The synergies of our two institutions, both led by renowned clinical leaders, holds significant promise for innovation and holds limitless possibilities for advancing orthopedic care in Hudson County. I am looking forward to continuing to work with Rothman to ensure that we are bringing the best possible patient-centered orthopedic care to the communities we serve."
The spinal procedure was performed by Dr. Michael L. Smith, M.D. at Hoboken University Medical Center. Dr. Smith is a Neurosurgeon specializing in the care and surgical management of Spine Conditions. With a stellar educational background including graduating from University of Virginia College of Arts and Sciences with a BA in Chemistry with Highest Honors in 1996, Dr. Smith continued on to earn his MD from the UVA School of Medicine in 2000 where he was elected to the Alpha Omega Alpha medical honor society. He then completed his neurosurgery training in the residency program at the University of Pennsylvania from 2000 to 2007 and his spine surgery fellowship at the National Hospital for Neurology and Neurosurgery in London, England from 2007 to 2008. He initially started his practice at Montefiore Medical Center as an assistant professor of neurosurgery of Albert Einstein College of Medicine until 2009, and then transitioned to NYU Medical Center as an assistant professor of neurosurgery at NYU School of Medicine until joining Rothman Orthopaedics in New York in 2019.
"Dr. Smith is one of the best orthopedic spine surgeons we have at Rothman due to his vision, expertise and demonstrated excellence in spinal care," said Alexander R. Vaccaro, M.D., Ph.D., M.B.A, President of Rothman Orthopaedics, Richard H. Rothman Professor and Chairman of the Department of Orthopaedics, and Professor of Neurosurgery at Thomas Jefferson University and Hospitals. "We look forward to many more firsts in our partnership with CarePoint, while continuing to increase access to in-network, affordable and high-quality care to Hudson County and its surrounding areas."
"This kind of success so early in the Rothman Orthopaedics and CarePoint partnership is exactly what we've envisioned when we established this relationship," said Christopher T. Olivia, M.D., CEO of Rothman Orthopaedics. "The treatment and services patients will receive at Rothman coupled with CarePoint's mission to ensure they receive consistent, equitable and localized care is why this is an ideal collaboration for both parties as well as the community. Congratulations to Dr. Smith and the CarePoint team for this accomplishment!"
"I am so pleased to see this important partnership come to fruition and am honored to have the opportunity to serve the community here in Hudson County and beyond," said Dr. Smith. "Having the first spinal surgery under our belt is only the beginning of what we will be able to deliver to this community with our focus on enhancing access to top quality musculoskeletal care together."
An internationally recognized leader founded in 1970, Rothman Orthopaedics is the largest orthopedic surgical practice in the United States. Rothman Orthopaedics has 14 practice operations in New Jersey and a new Hudson County outpatient location recently opened in Journal Square in partnership with CarePoint. This location includes surgical and non-surgical services in addition to imaging, orthotics and physical therapy.
CarePoint Health has made major strides in bringing top quality healthcare to the people in Northern New Jersey. In the past two years CarePoint has gained national recognition as the No. 1 ranked hospital for equitable care in the US by the prestigious Lown Institute and 4th ranked safety net hospital by Washington Journal. In its stage of strategic and clinical evolution CarePoint health system is transforming to a nonprofit healthcare system with partnerships that include national leaders in healthcare delivery like Rothman Orthopaedics.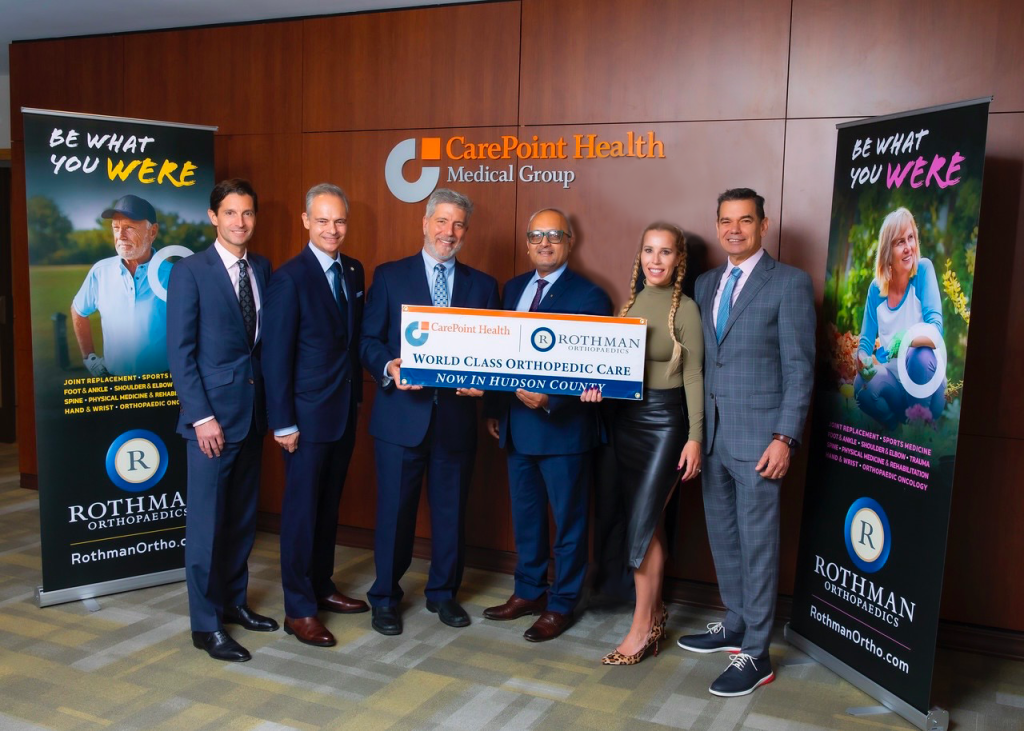 Pictured Left to Right: Michael L. Smith, MD, spine surgeon at Rothman Orthopaedic Institute; Christopher T. Olivia, MD, CEO, Rothman Orthopaedic Institute; Alexander R. Vaccaro, M.D., Ph.D., M.B.A, President of Rothman Orthopaedics, Richard H. Rothman Professor and Chairman of the Department of Orthopaedics, and Professor of Neurosurgery at Thomas Jefferson University and Hospitals; Achintya Moulick, MD, MBA, M.Ch., President and CEO of CarePoint Health; Jaclyn Fulop, First Lady of Jersey City; and Robert Beauvais, Chief Hospital Executive of Hoboken University Medical Center and Executive Vice President of Operations.
About Rothman Orthopaedic Institute
Rothman Orthopaedic Institute is the largest musculoskeletal practice in the United States according to Becker's Review. A world-leader in the field of orthopaedics, Rothman Orthopaedics partners with health systems, hospitals and physicians to build enduring musculoskeletal systems of care in communities that are high-quality, compassionate, affordable and grounded in evidence-based medicine.

Rothman Orthopaedic Institute orthopaedists treat patients in 43 locations and has surgical privileges at 71 facilities in Pennsylvania, New Jersey, New York and Florida. With experts in nine orthopaedic sub-specialties including spine, hip and knee, foot and ankle, shoulder and elbow, hand and wrist, sports medicine, physical medicine and rehabilitation, orthopaedic oncology and trauma, Rothman Orthopaedics is recognized for excellence in clinical treatment methods, research, education and technology.
Consistently recognized as national and regional "Top Docs," Rothman Orthopaedics is proud to be the official team physicians for the Philadelphia Eagles, Phillies, the iconic Radio City Rockettes, The Big EAST Conference, as well as 63 college and high school teams.
For more information about Rothman Orthopaedic Institute, please visit www.RothmanOrtho.com.
CarePoint Health brings quality, patient-focused health care to Hudson County. Combining the resources of three area hospitals, Bayonne Medical Center, Christ Hospital in Jersey City, and Hoboken University Medical Center, CarePoint Health provides a new approach to deliver health care that puts the patient front and center. CarePoint Health leverages a network of top doctors, nurses, and other medical professionals whose expertise and attentiveness work together to provide complete coordination of care, from the doctor's office to the hospital to the home. Patients benefit from the expertise and capabilities of a broad network of leading specialists and specialized technology. At CarePoint Health, all medical professionals emphasize preventive medicine and focus on educating patients to make healthy life choices. For more information on its facilities, partners and services, visit
www.carepointhealth.org
.